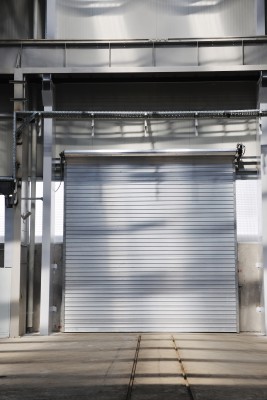 It's no secret that commercial and industrial doors take a heavier beating than residential garage doors and so it is important for the business owners of Ashland to make sure they have the right door for their business. This means to not only be sure you have the right door, but that it is installed correctly, you know who to call for repairs and that it has regular maintenance checks to ensure the safety of all who use and are near the door. This is why American Industrial Door of Ashland is who business owners contact when they need a new commercial door or their existing door serviced. We have been the Southern Oregon expert for over 25 years in quality service, customer service and emergency service. Commercial and industrial doors are made more sturdy and able to withstand the everyday heavy usage that your home's doors do not have to. Because they are heavier doors, it is even more important to make sure they are installed and serviced correctly, by technicians who have years of experience.
At American Industrial Door of Ashland, we are proud of the selection of doors we have to offer the businesses in the area. This means that no matter what your business is, we know we will find a door that will fit your needs perfectly. We specialize in all types of commercial doors, from internal and external, large and small, fire and garage doors. Whatever your industry is, we will have a door for you. Here is a brief description of some of the doors we install, repair and maintain.
• One Piece Garage Doors are less common in new construction but are heavily popular in older workspaces. These are solid doors that are designed to swing up and prop or be secured back into the work area.
• Sectional Garage Doors started replacing one piece garage doors many years ago. This are of similar style, but are made of several different sections rather than one whole piece.
• Roll Up Garage Doors are often called service doors. They are made to roll up and out of the way, right above the opening to the garage. These type of doors are common in workspaces that need security or added protection from weather.
• Aluminum Garage Doors can give your workspace some added visibility and let light in. Because of this, aluminum doors are perfect for work areas that utilize both outside and inside spaces. While they can be used specifically for outdoors, many office spaces use them as partitions inside.
• Service Doors are commonly found inside rather than outside, or to section off different spaces in a garage or space. They usually have slats of some kind that still allow visibility and air flow while making an adequate space designation. They can also be made to match any work environment since they are easily painted.
• Counter Doors are lightweight doors that are inside, over a countertop and are made to easily open and shut. They can also be made to secure one workspace from another on a temporary basis. These are often found in pharmacies and concession stands.
• Security Grilles do not entirely shut off one area from another but definitely increase security and safety when needed. They have slats throughout them, so still have plenty of visibility while still defining an open versus closed space. They are usually found in malls and schools and can be made to go up and down or from side to side.
COMMERCIAL BRANDS AND SUPPLIERS
Wayne Dalton – www.wayne-dalton.com
Porvene Doors – www.porvenedoors.com
Cookson – www.cooksondoor.com
R & S Manufacturing – www.rsdrprod.com
QMI Security Shutters – www.qmiusa.com
At American Industrial Door of Ashland, we understand all the qualities you look for in a business. You want a company that has the experience and knowledge to do what is needed, you want a business that has the integrity and respect to take your needs seriously and you want someone who has the excellent customer service that you also provide to your customers on a daily basis. American Industrial Door will quickly prove to you that we have all those qualities and more. We are the highest trained commercial door installers in the area and we continue to train and educate our team as new techniques and doors are designed. We believe in same day response and 24 hour response for emergencies and we are the kind of company that we would want to do business with. Our team of technicians are licensed, bonded and insured so you can be confident that you are working with professionals that not only love what we do, but we take it seriously. When your company needs a door installed, repaired or maintained, call American Industrial Door of Ashland.