Garage Door Repair & Service in Ashland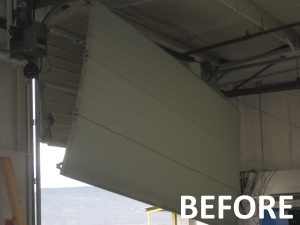 Many of the homes in Ashland have a garage and that means that they are all in need of repair from time to time. With so many different professional companies to choose from that specialize in garage doors and the many handymen who do all types of home repair, how do you know which one is best for your garage door repair needs? American Industrial Door of Ashland has been repairing and maintaining garage doors for over a quarter of a century, so you can trust in us to get the job done correctly and safely. If your garage door malfunctions, it can injure any member of your family or damage a valuable possession such as your car, so we know you want to trust the care of it to the best professionals for the job.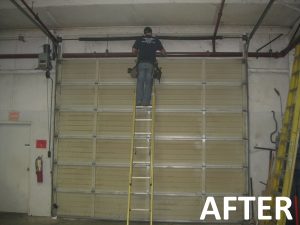 Garage doors can malfunction for many different reasons. The most common reason is that it simply will not open or close. Depending upon which side of the garage door you are on, this can be a big problem! If your garage door will not close, all of your belongings are left vulnerable and if it will not open, it can be problematic to park, or worse if your car is stuck inside the garage! Usually when your garage door will not open or close, this is a problem with the springs. Garage door torsion springs typically last for six to ten years, or 10,000 cycles. When these springs have outlived their life span, break or are faulty for whatever reason, your garage door will cease to operate which is actually a safety function. Improper usage and extreme temperatures can make their life span even shorter, and as Ashland residents know, the winters can be extremely cold.
When you call American Industrial Door of Ashland, you will quickly see why so many Southern Oregon residents already use our services for all aspects of their garage door repair and installation. We have the highest amount of knowledge in the field as well as a vast commitment to excellent customer service. We understand that having any kind of home improvement is stressful for the home owners of Ashland and we want to make this difficult time easier on you. Part of how we do that is working thoroughly to make sure every part of your garage door is running smoothly, effortlessly and safely. We do this by performing a 12 point safety and performance inspection with every service call that we make, regardless of how large or small the problem is. Whether your door is a double spring model or a single spring model, we are well equipped and experienced in the right method to make the repairs. If your garage door is a double spring model and only one set has broken, we will replace both sets because we know the other set is going to have issues relatively soon. Thorough workmanship and service with a smile are the main reasons why so many Ashland residents use American Industrial Door for all their garage door repairs.
Our 12 Point Door Tune Up is part of our general service call and will get your door running smooth and quiet.
Residential rate $95 plus parts, commercial rate $115 plus parts.
Another issue that your garage door may be having has nothing to do with the door itself, but rather with the garage door opener. While many times they just are in need of a new battery, they certainly can outlive their ability to operate and a new opener is sometimes necessary. It is not needed to replace your entire garage door in this instance, because the technicians at American Industrial Door are experienced in resetting a new garage door opener to effectively work with your existing garage door. If your garage door is an older model or did not come with a garage door opener, you probably have a regular key type lock on the door to keep your belongings safe. If there is a problem with the lock or if you need a new one installed, American Industrial Door of Ashland can help you with this job, too!